In anticipation of a busy summer schedule, Will Shields' Team at 68Scouting are ready with the official launch of it's website https://68scouting.com/  !!!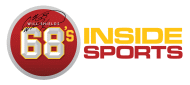 Under the leadership of Zach Hibdon, the Director of Professional Sports and Scouting, this program is destined to be the most comprehensive football player development, scouting and recruiting resource in the country. Their multi-sport complex in Overland Park, KS,  provides all the necessary tools and resources for any player to advance their skill sets and physical development to create the best opportunities for their future.  For anyone who has a passion and drive for our great game, this is the program that will take you as far as you can go.
GES Advisory Company is proud to be a part of this great staff of people and are looking forward to many great accomplishments on behalf of all of it's members!
Coach Hibdon can be reached at (913) 387-7410 or email 68Scouting@68InsideSports.com to find out more!
Yours In Football!
Glenn E. "Shemy" Schembechler